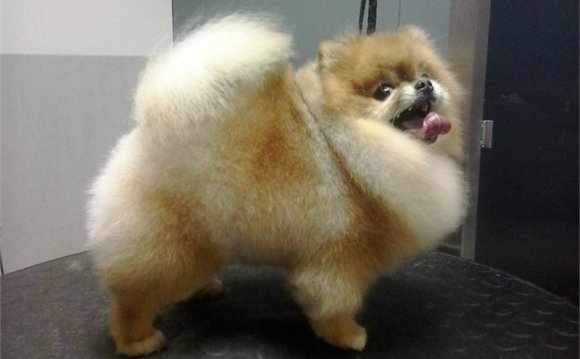 Dogs At Home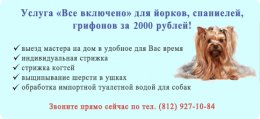 Our advantages are:
Home visit
Individual approach to each animal
Use of quality imported noise-free tools and hyperallergenous cosmetics only
professional merchants
affordable prices
washed by an imported hypoallergenic champoo-polysian and a discount card To the SPARK!
Dog breed
Line - Option 1
Value
Line - Option 2

Yorkshire Terrier

Individual haircut (all)

2000

Hygiene haircut (includes the haircut of the intimate zone, the stomach of the ear and the cut of claws, washing)

1,500

Bologna

Trailer line

1,600

With strong colts

2100

Griffon

2000

Trimming

Chinese cholera (guide)

1900

Chinese cholera

Deployment

From 1,500

Individual

Beijing

Under machine

1800

Model

2000-2500

Shi-tsu

2000-2500

Spy.

Petersburg Orchid

Budel

That puddle.

1,500
1700

Budel is small

Budel is big.

3000

Speech

Trimming on standard

2500

Foxter.

Welsh Terier

Scotch terrier

West Hayland White Terrier

Church

Mittelshowzer

Erdelterier

2700

Russian black terrier

3500

Risenhowzer

Chow-chao

Line

Extraction

Newfoundland

4500

Irish Volkoff
*- the cost of hair cuts may vary from omissions (coltums) and wool contamination:
Small dogs, haircuts in general could be up to 3,000r.
medium to 4,500r
to 6,500r
Dog string in the SPB: stylish and cherished, with a home visit.
Dog hair - it's a compulsory process that any dog needs. Separately detached a dog's hygienic haircut.
The hygienic hair helps keep the dog clean. It's the haircut and the wool between the fingers and the underwear paws and the animal genitals. Hygiene is also considered a complete cut of the dog with a special machine.
Ideally, the hygienic haircut of the dog needs to be done every 2 to 4 weeks. For example, before swimming, at the lining or at the warm time of the year.
Share this Post